Puppy Grows Toy | Baby Annabell Doll | Pink Nintendo DS Lite | Squawkers Talking Parrot | Smarter Than A 10 Year Old
Golden Balls Game | Transformers Bumble Bee | Flytech Insectoid Dragonfly | Dr Who Dalek Mask | Barbie MP3 Player
Amazing Lexie Talking Dog | Rose Petal Cottage | Bratz Movie Star Mansion | Gifts For Mum & Dad | Power Tour Guitar
Power Tour Guitar - Hasbro Power Tour Guitar
What a fantastic top 10 Christmas gift idea. The Hasbro Power Tour Guitar is a great new fun way to learn the instrument, and with no strings to break, little fingers will be practicing their licks, without picks!

Modelled after a Gibson SG, this Power Tour Guitar axe enables kids (when they've wrestled it from Dad's hands) to plug in an MP3 player and rock right along with it. The learning mode will do a decent job in creating the guitar heroes of tomorrow. The fret is colour coded, and flashing lights prompt the player where to place their fingers. Power Tour Guitar even adapts to the ability of the player, so you won't feel rushed when mastering one of the built-in tunes. Your little one will soon be filling stadia all over the world with the Hasbro Power Tour Guitar.

Power Tour Guitar comes with strap, cable and DVD instructions. MP3 player not included.

Black or White Power Tour Guitar Prices


---

Power Tour Guitar - At Firebox
There's more to being a guitar hero than pulling stupid faces and sticking out your tongue; you have to be pretty handy on the old six string. Unfortunately that takes years of dedication and tons of talent. So wouldn't it be great if you could play like a pro, jam with some rock gods and blow away your friends without all that fiddly string-plucking business? Well now you can with the Power Tour Guitar.

Gibson style string-less guitar.
Touch sensors replace strings.
An onboard speaker.
12 pre-loaded songs to learn to play.
Learn mode - breaks down a song into segments and guides you through the chords with lights along the fret and strum bar.
Band mode - freestyle to backing tracks.
Choose your guitar sounds from: metal, punk, rock, or indie.
The all important whammy control.
An input jack for plugging in your MP3 player so you can play along or headphones for a quieter jam session.
An output jack so you can plug it into an amp for bigger sound.
Choose from the black or white version.
Requires 4 x AA Batteries (not included).
Suitable for ages 8 years+.
Size: 61 x 25 x 6cm.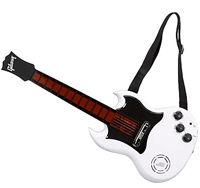 POWERTOUR ELECTRIC GUITAR
Tiger Electronics, the brand which has earned a reputation over the years for identifying and bringing to market some of the hottest tech toys for tweens, and Gibson Guitar, the world's premiere musical instrument manufacturer, announce the introduction of the PowerTour Guitar Electric Guitar, an exciting new product that combines Tiger's tween insight and innovation with Gibson's legendary guitar experience. With the POWER TOUR Electric Guitar, available at retailers this fall, music-loving tweens can learn to pound out power chords, shred leads and rock right out of the box!

"We are 'amped' to introduce a very real, very cool, musical instrument," said Jeff Jackson, vice president of marketing, Tiger Electronics. "Tiger and Hasbro (NYSE:HAS) are committed to delivering exciting and fulfilling entertainment experiences, including great products outside of traditional toys and games. The POWER TOUR Electric Guitar is incredibly realistic, and we believe that tweens will love the experience."

"Most kids are easily discouraged at how hard it is to learn to play the guitar and often give up," Jackson continued. "With the Power Tour Guitar tweens enjoy a sense of empowerment and accomplishment as they learn to play real rock songs."

"We are very excited about our new alliance with Hasbro," said Henry Juszkiewicz, Chairman and CEO of Gibson Guitar, "The POWERTOUR Electric Guitar is innovative, exciting and definitely rock star material."

About the POWER TOUR Electric Guitar

Tweens have never rocked this hard, this easy! With the POWERTOUR Electric Guitar, music enthusiasts can choose to learn how to play the twelve pre-loaded songs or plug in an MP3 player (not included) and jam along to their favorite rockin' tunes.

To learn the twelve onboard songs, aspiring rock legends first select a song – choices include six classic rock anthems such as Wild Thing, Smoke on the Water and Breaking the Law, as well as several rock originals like Basic Strumming Blues. Once a song is selected, tweens simply follow along to the lights - the POWER TOUR Electric Guitar will 'light' the way to where fingers should be placed so tweens can play at their own speed, hitting the right notes at the right time.

Featuring touch sensors instead of strings, the Power Tour Guitar Electric Guitar removes the steep learning curve and intimidation factor usually associated with a real guitar. When the guitar is in 'learn' mode, players are introduced to each song segment by segment, lights along the fret and strum bar guide the guitarist. Once the player is able to correctly play the segment, the next segment of notes is introduced. If the player gets the segment wrong, the POWER TOUR Electric Guitar will play back the example a little slower. This cycle will continue until the segment is mastered, the process is continued until the entire song has been learned. Once tweens master the song, they can switch the guitar to 'band' mode and rock out to backing tracks – just like they have their own band! As players learn, they can select from rock songs of increasing difficulty, and even change the guitar's sound to 'metal,' 'punk,' 'rock,' or 'indie.'

Featuring authentic guitar sounds, the POWER TOUR Electric Guitar boasts lots of really cool guitar features including strum bar, palm mute bar, whammy control, input/output jacks, touch sensors, multicolored LED lights and dual function knobs! The POWER TOUR Electric Guitar also features classic "Gibson Guitar" shape and styling, just like the professional versions.

Turn It On, Turn It Up, Rock Out™! The POWER TOUR Electric Guitar (ages 10 years and up) will be available fall 2007 for the approximate retail price of $69.99. Four "AA" batteries are required but not included.

Also available this fall, turn things up a notch with the POWER TOUR AMP - an awesome way to rock out even LOUDER! Use this super cool amp with the POWER TOUR Electric Guitar (sold separately), or a standard MP3 player (not included), and watch the lights pulse to the beat of your magnified music. Volume dial goes up to 11 – so plug in and rock out! The POWER TOUR AMP (ages 10 years and up) will be available Fall 2007 for the approximate retail price of $49.99. Four "C" batteries are required but not included.


Baby Gift Ideas | 1 to 3 Year Olds | 4 to 8 Year Olds | 8 to 12 Year Olds | 12 to 14 Year Olds | 14 Years Plus