Puppy Grows Toy | Baby Annabell Doll | Pink Nintendo DS Lite | Squawkers Talking Parrot | Smarter Than A 10 Year Old
Golden Balls Game | Transformers Bumble Bee | Flytech Insectoid Dragonfly | Dr Who Dalek Mask | Barbie MP3 Player
Amazing Lexie Talking Dog | Rose Petal Cottage | Bratz Movie Star Mansion | Gifts For Mum & Dad | Power Tour Guitar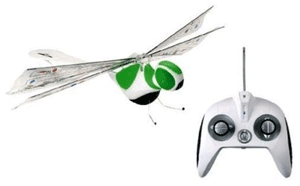 Flytech Dragonfly
Colours may vary. Unique indoor flyer: Capable of manoeuvring in tight spaces. FlyTech Dragonfly flaps its wings like a real insect. The dragonfly can take off from any smooth surface, soar, dive-bomb, hover and glide silently for soft landings. Built using a durable carbon-fiber structure. Light weight design protects home interiors.

Its eyes alert you of the insectoid dragonfly's status by blinking, pulsing, or shining clear and bright.
2 channel digital proportional remote
Control Insectoid Dragonfly wing speed and tail rotor speed; remote is also the charging base.
Two skill levels: Beginner and advanced
Includes a tail stabilizer for additional control
Wingspan: 16 inches (~40 cm)
Battery requirements: 6 x "AA" batteries (not included)
Flight time: Up to 10 minutes on a single charge
Power: Rechargeable lithium polymer battery

Availability Alert! Top Christmas gifts sell out quickly.
Flytech Dragonfly - A must have present?
Please ORDER NOW to avoid disappointment...


Flytech Dragonfly Prices


---
Flytech Dragon Fly Awards
Navigating the Dragon Fly is a treat on all levels. As he dips and dives through the air, this little beast is an incredible robot. So it's easy to see why he won the following awards.

POPULAR MECHANICS EDITOR'S CHOICE AWARD -FlyTech Dragonfly received the CES 2007 Popular Mechanics Editor's Choice Award


POPULAR SCIENCE BEST OF CES 2007 - FlyTech Dragonfly received Popular Science "Best of CES 2007" recognition.


PC MAGAZINE - FlyTech Dragonfly received a 4 Stars Rating


THE NATIONAL PARENTING CENTER - FlyTech Dragonfly received The National Parenting Center's Seal of Approval


IPARENTING MEDIA AWARDS - FlyTech Dragonfly was the iParenting Media Award winner and iParenting Media Hot Award winner.

Reviews
An ultra-light, easy-to-fly machine. The Dragonfly's dual-wing design and 'high-flex', crash resistant structure make the Dragonfly safe to fly indoors or outdoors.

UK Christmas Gift Ideas
Remember we check prices at Argos, Asda, Littlewoods, Comet, Currys, Tesco, John Lewis, Sainsburys, Boots, HMV, Play.com, Amazon, Toys R Us, Woolworths, WH Smith, Marks & Spencer, I Want one Of Those, Mail Order Express, Firebox, Find Me A Gift and many more.

Baby Gift Ideas | 1 to 3 Year Olds | 4 to 8 Year Olds | 8 to 12 Year Olds | 12 to 14 Year Olds | 14 Years Plus