Puppy Grows Toy | Baby Annabell Doll | Pink Nintendo DS Lite | Squawkers Talking Parrot | Smarter Than A 10 Year Old
Golden Balls Game | Transformers Bumble Bee | Flytech Insectoid Dragonfly | Dr Who Dalek Mask | Barbie MP3 Player
Amazing Lexie Talking Dog | Rose Petal Cottage | Bratz Movie Star Mansion | Gifts For Mum & Dad | Power Tour Guitar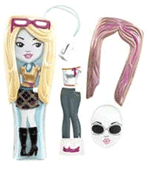 Barbie Girl MP3 Player 512MB
Barbie Girl MP3 Player - Blue / Pink
Barbie Girl MP3 Player - Blue

Your little fashionista will love listening to her favourite songs on this Barbie Girl MP3 Player. The doll-shaped music player holds up to 120 songs and has interchangeable covers for your Barbie fan to customise as she likes.

Suitable for ages 6 years+

Features: Holds up to 120 songs. Interchangeable case, Head phones, Belt clip, Docking station, Accessory packs are available (sold separately).
Availability Alert! Top Christmas gifts sell out quickly.
Barbie MP3 - A must have present?
Please *ORDER NOW* to avoid disappointment...


Barbie Girls MP3 Player


---
Finally, a Barbie MP3 player that is perfect for girls of all ages who can't get enough of Barbie!

Barbie Girls Barbie MP3 player allows girls to connect to their favourite things: music, fashion, and going online. It's the next generation of fashion doll play! This doll is actually an MP3 player that holds 512 megabytes of music, for young ladies with an eye for fashion and an ear for music! Just plug this USB MP3 player into your computer and transfer all your favourite songs for your listening pleasure.

Infact, what makes this Barbie MP3 player so unique is that it allows hip young girls to customise how they want their Barbie Doll to look! Mix and match trendy clothes, change the hair colour, and accessorise to the fullest with this hybrid of a doll and an MP3 player! The MP3 player comes with accessories inside a window box pink case. Go online in a virtual settings specifically designed for Barbie Girls owners, and other cool girls alike! In the Barbie Girls chat rooms, make new friends, and talk about fashion, music, and anything else that girls talk endlessly about! This MP3 player comes with fashionable ear buds and a unique code to customise your virtual Barbie Girl online! The MP3 player is PC and Apple compatible for easy use. If 512 megabytes of memory isn't enough to hold your music, the MP3 player also upgradeable to 2 gigabytes of memory.

Tech Specs:
512 MB on-board memory (up to 120 MP3 or 240 WMA-file songs)
Expandable miniSD slot that holds a memory card up to 2 GB (sold separately)
The Barbie MP3 device can play any non-DRM-encrypted MP3 or WMA files.

Barbie MP3 Comes with Windows Media Player 11
Built-in rechargeable lithium polymer battery that charges via a USB port


Barbie MP3 Player
Barbie MP3 Player 512MB - Pink
The Barbie MP3 Player is perfect for your little girl to listen to all her favourite music. It can store up to 240 songs and comes with a USB cable and headphones.

Features: Stores up to 240 songs, SD/MMC card slot, USB cable,
Headphones.


Barbie MP3 Player


---
UK Christmas Gift Ideas
Remember we check prices at Argos, Asda, Littlewoods, Comet, Currys, Tesco, John Lewis, Sainsburys, Boots, HMV, Play.com, Amazon, Toys R Us, Woolworths, WH Smith, Marks & Spencer, I Want one Of Those, Mail Order Express, Firebox, Find Me A Gift and many more.

Baby Gift Ideas | 1 to 3 Year Olds | 4 to 8 Year Olds | 8 to 12 Year Olds | 12 to 14 Year Olds | 14 Years Plus