Puppy Grows Toy | Baby Annabell Doll | Pink Nintendo DS Lite | Squawkers Talking Parrot | Smarter Than A 10 Year Old
Golden Balls Game | Transformers Bumble Bee | Flytech Insectoid Dragonfly | Dr Who Dalek Mask | Barbie MP3 Player
Amazing Lexie Talking Dog | Rose Petal Cottage | Bratz Movie Star Mansion | Gifts For Mum & Dad | Power Tour Guitar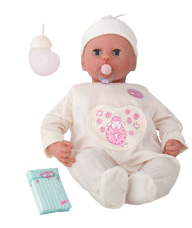 Baby Annabell Doll
Baby Annabell the perfect Christmas stocking filler and best gift idea. Your little one will love playing 'mum' with the all new BABY Annabell Doll. Watch her fall asleep, cry real tears. Plus listen to her babble and make sucking noises on her dummy.

The magical BABY doll that reacts to you!
She drinks from her bottle, closing her eyes, and burping afterwards
Rub her stomach to soothe away gripes
She reacts to sounds and rewards care and attention
Her eyes and mouth move
Size 46cm (18.1)
Requires 4 x AA batteries (not included)
Suitable for ages 3 and over

Availability Alert!
Baby Annabell - A must have present?
Please *ORDER NOW* to avoid disappointment...
Buy Baby Annabell Doll - UK Prices


---
Baby Annabell reacts like a new baby. She learns her new Mummy's voice and follows her around 46cm doll. Head turns to the left or the right depending on where your voice is coming from. Babbles, gurgles and sucks on her dummy. Requires 4xAA batteries (not included). Age from 3 years.

The loveable baby doll that reacts randomly to touch and sound demands some basic social requirements, such as love, care and responsibility from her doll mummy. Baby Annabell reacts like a real baby. She babbles, laughs, sleeps, cries and sucks on her dummy with realistic facial movements. She drinks from her water filled bottle and gently opens and closes her eyes. When she has finished eating and drinking, she does a burp, yawns and falls asleep. If Baby Annabell get's stomach ache she feels better after her tummy has been rubbed. If she is awoken by a noise she cries real tears like a real baby, but she can be easily calmed down by singing.
UK Christmas Gift Ideas
Remember we check prices at Argos, Asda, Littlewoods, Comet, Currys, Tesco, John Lewis, Sainsburys, Boots, HMV, Play.com, Amazon, Toys R Us, Woolworths, WH Smith, Marks & Spencer, I Want one Of Those, Mail Order Express, Firebox, Find Me A Gift and many more.

Baby Gift Ideas | 1 to 3 Year Olds | 4 to 8 Year Olds | 8 to 12 Year Olds | 12 to 14 Year Olds | 14 Years Plus