Puppy Grows Toy | Baby Annabell Doll | Pink Nintendo DS Lite | Squawkers Talking Parrot | Smarter Than A 10 Year Old
Golden Balls Game | Transformers Bumble Bee | Flytech Insectoid Dragonfly | Dr Who Dalek Mask | Barbie MP3 Player
Amazing Lexie Talking Dog | Rose Petal Cottage | Bratz Movie Star Mansion | Gifts For Mum & Dad | Power Tour Guitar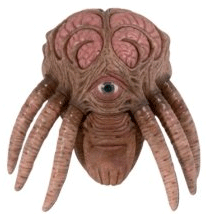 Dr Who Dalek Sec Hybrid Voice Mask
Thank heavens Father Christmas doesn't look like this. Dr Who Dalek Sec Hybrid Voice Mask. This voice changer is Dalek Sec Hybrid which features speech and voice changing effects. It has two play buttons. Button 1 activates Dalek question, followed by Dalek Sec Hybrid's reply. Button 2 activates Dalek Voice Changer Function. Batteries included. For ages 5 years and over.

Product Dimensions: 28 x 24 x 30 cm ; 1.6 Kg
Boxed-product Weight: 1.6 Kg
Delivery Restrictions: Available for delivery to the UK and most countries in Europe.
Manufacturer's age: 5 and up

Availability Alert! Top Christmas gifts sell out quickly.
Dr Who Dalek Mask - A must have present?
Please *ORDER NOW* to avoid disappointment...


Dr Who Dalek Sec Hybrid Voice Mask


---
This Doctor Who Dalek voice changer mask comes with 3 voices to choose from and also a variety of sound effects. Age range 5yrs+.

"I am a human Dalek!" "Dr Who Dr Who" Scare your human friends and family with this frightening voice changer mask. Dalek Sec features button-activated Dalek speech, with a variety of evil phrases, while the voice changer button turns your voice into a Dalek's! "Exterminate! Exterminate!"

After arriving in Depression-era New York City, Dalek Sec and the rest of the Cult of Skaro set about combining Dalek and human DNA, attempting to create a new race of Daleks that could never be defeated. As a test subject, Sec himself absorbed the humans Mr Diagoras, which provided him with a new, fully mobile body, meaning he could live outside his protective casing. The other members of the Cult, however, became distrustful of their leader's amalgamated form and their plans rapidly went awry…

Travel back in time and enter the weird and wonderful world of Doctor Who with this realistic Dalek Sec Hybrid Voice Changer Mask. This ghouly mask features two play buttons. Pres buttonone and activate the Dalek question with Dalek Sec Hybrid's reply. Or press button two to activate the Dalek voice changer function.

This voice changer is Dalek Sec Hybrid which features speech and sound effects.

It has three play buttons:

Button 1 - Sec man's voice.

Button 2 - Dalek voice reply.

Button 3 - Dalek voice changer reply button.

Requires 3 x AA batteries (included).

For ages 5 years and over.


UK Christmas Gift Ideas
Remember we check prices at Argos, Asda, Littlewoods, Comet, Currys, Tesco, John Lewis, Sainsburys, Boots, HMV, Play.com, Amazon, Toys R Us, Woolworths, WH Smith, Marks & Spencer, I Want one Of Those, Mail Order Express, Firebox, Find Me A Gift and many more.

Baby Gift Ideas | 1 to 3 Year Olds | 4 to 8 Year Olds | 8 to 12 Year Olds | 12 to 14 Year Olds | 14 Years Plus