Leap Frog Click Start - My First Computer UK Prices


---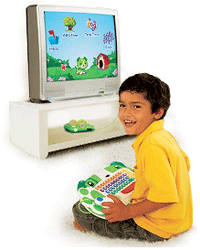 About Leap Frog Click Start My First Computer
Leap Frog Click Start My First Computer teaches a child about colours By helping them grasp the concepts of colour, shape and pattern, infants and young children. Leap Frog Click Start My First Computer helps children learn animal names and sounds Learning about animals and their sounds is a fun way for infants and toddlers to develop language and listening skills. Leap Frog Click Start My First Computer helps with letter names Young children typically recite or sing the alphabet before they recognize individual letters. By preschool they begin to identify letters by name and shape. Letter sounds Before they can learn to read, children must learn letters and their sounds. Once children associate printed letters to sounds, they can begin to sound out words for reading and spelling. Introduce your child to the world of computer learning with this Click Start My First Computer from Leap Frog. Fun activities teach essential skills for school in a safe, child-friendly environmet.

Suitable for ages 3-6 years

Features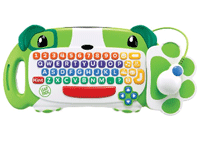 Leap Frog Click Start - My First Computer
This great Christmas gift idea Leap Frog Click Start - My First Computer introduces children to the world of computer learning. Fun activities teach essential skills for school and life in a safe, child-friendly environment.

Includes child-size mouse with adjustable mouse pad for left-or right-handed play, a console that connects directly to your TV, a wireless keyboard and four desktop learning games.

Requires 4 AA and 4 C batteries
Suitable for ages 3 years+

Leap Frog Click Start - My First Computer is a console that connects to the TV, wireless keyboard and four desktop learning games. Fun learning in a safe environment. Great introduction to computer learning. Includes child-sized mouse.

Description

Leapfrog's Clickstart turns your TV into a learning PC and introduces your child to the world of computer learning.

Featuring a child-friendly wireless keyboard, a console and a mouse that converts for right- or left-handed play, Leap Frog ClickStart My First Computer creates a safe environment right on your television, transforming it into child's very own computer.

Four included games teach essential skills for school while introducing basic computer navigation. Additional software featuring popular children's characters sold separately.

Phonics skills
Letters
Animal facts
Counting

Click Start - My First Computer UK Prices


---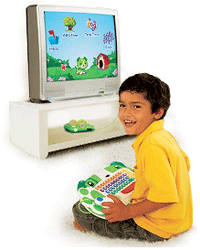 Leap Frog Click Start - My First Computer Child Development
Leap Frog Click Start - My First Computer can help children learn and develop a whole range of understanding:

Colours
Leap Frog Click Start can help a child understand colours. By grasping the concepts of colour, shape and pattern, infants and young children begin to recognize and organize visual information.

Animal names and sounds
My First Computer can help learning about animals and their sounds is a fun way for infants and toddlers to develop language and listening skills.

Letter names
Young children typically recite or sing the alphabet before they recognize individual letters. By preschool they begin to identify letters by name and shape.


Letter sounds
Before they can learn to read, children must learn letters and their sounds. Once children associate printed letters to sounds, they can begin to sound out words for reading and spelling. My First Computer can help with this.

Uppercase and lowercase letters
Leap Frog Click Start my first computer can help with Uppercase and lowercase letters. While children typically recognize uppercase letters first. lowercase letters are essential for learning to read because they make up 95% of text.

Phonics skills
To learn to read, a child must understand the letter-sound relationship and distinguish individual sounds, or phonemes, within words. Crucial to reading, phonics skills help children sound out new words (If I can read "pot," then I can read "hot" and "spot").

Creating with technology
Technology expands a child's opportunities to communicate and create.

Shapes
Identifying and manipulating shapes lays the groundwork for geometry by giving children concrete experience with angles, symmetry and relative sizes.

Numbers
To begin their study of math, children must distinguish numerals from letters and shapes and to understand that numbers are symbols for amounts.

My First Computer - Counting to 10
As language skills develop, some toddlers display the ability to count things up to 5 by applying number names to items in order. Preschoolers often recite numbers to 10 (but not always in the right order).

My First Computer - Matching
Matching develops early logic and reasoning skills and is a component of early math and literacy. Children match like objects, shapes, patterns, pictures and stories, letters to sounds and pictures to words.

Baby Gift Ideas | 1 to 3 Year Olds | 4 to 8 Year Olds | 8 to 12 Year Olds | 12 to 14 Year Olds | 14 Years Plus