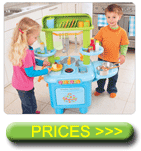 Sizzlin' Kitchen : £60.00 - £65.99
Sizzlin' Kitchen is a great gift idea from the wonderfull Early Learning Centre...

Sizzlin' Kitchen with £30 of free accessories - Loosen the apron strings and let the children cook up a storm with this designer sizzlin kitchen. It features a cooker with turning dials, dishwasher and sink, storage rack for plates, side tables for food preparation plus pots, pans and cutlery.

Star Buy offer - Free accessory set includes 50- piece set of cutlery, crockery, utensils, pots and pans. Please note: Discount codes are not valid on Star Buy offers.

The Sizzlin Kitchen is great for helping children work as a team, through games like "you stir, I'll bake"..

Fine motor skills: Sizzlin Kitchen toys will help your child to use their hands for precise movements.

Fine motor skills are refined careful movements. Towards two-years-old, children's brains start to enable small-scale hand.eye coordination. These skills are the first step towards learning to write, draw, thread and trace. Sizzlin Kitchen will help your child develop these skills.

Fine motor skills can be boosted by (for example) holding crayons or brushes, using scissors, placing with precision and selecting small objects.

Developing fine motor skills, coordination and dexterity are all vital for learning to write. And so much more of course . hands are essential for doing buttons, tying laces, operating computers and pretty much everything else in life. Practice is key for these skills . the more children use their hands, the finer their movements become.

(c) Early Learning Centre - Sizzlin Kitchen
---
Sizzlin' Kitchen : Helps a Childs Imagination
Children can practise making precise movements with Sizzlin Kitchens cooker dials that turn, oven door handles and accessories that include food, pots and crockery.

Sizzlin Kitchen toys encourage your child to enjoy using their imagination.

Fantasizing about people, animals or events enables children to think about and understand the world. From about two-years-old, children's imaginations really take off . as they have the thinking and language skills to start making up stories and begin role-play.

Toys that promote imaginative play help children process, understand and interpret stories, real events and new experiences.

Imaginative Sizzlin Kitchen toys boost children's ability to think and understand the world. They also encourage creative thought.
---
Sizzlin' Kitchen : Helps a Childs Social skills
The sizzlin kitchen is a great stage for acting out family life and for creating new recipes and characters who come to dinner.

Sizzlin kitchen toys help your child learn how to make friends and enjoy company.

Social skills enable children to cooperate, have their needs met, communicate effectively, be happy and have fun. The more a child communicates and socialises with others, the better their social skills become.

Toys that encourage sharing and show the benefits of cooperation are key tools for building social skills.

Social skills are essential for living happily in a family, making friends, and going to nursery or school. Children with good social skills are more likely to be popular and less frustrated.

(c) Early Learning Centre - Sizzlin Kitchen
Baby Gift Ideas | 1 to 3 Year Olds | 4 to 8 Year Olds | 8 to 12 Year Olds | 12 to 14 Year Olds | 14 Years Plus