Black or White Power Tour Guitar Prices


---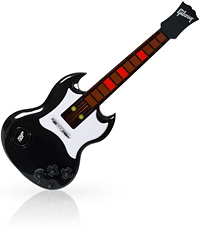 Power Tour Guitar - Hasbro Power Tour Guitar
The Hasbro Power Tour Guitar is a great new fun way to learn the instrument, and with no strings to break, little fingers will be practicing their licks, without picks!

Modelled after a Gibson SG, this Power Tour Guitar axe enables kids (when they've wrestled it from Dad's hands) to plug in an MP3 player and rock right along with it. The learning mode will do a decent job in creating the guitar heroes of tomorrow. The fret is colour coded, and flashing lights prompt the player where to place their fingers. It even adapts to the ability of the player, so you won't feel rushed when mastering one of the built-in tunes. Your little one will soon be filling stadia all over the world with the Hasbro Power Tour Guitar.

Power Tour Guitar comes with strap, cable and DVD instructions. MP3 player not included.

Power Tour Guitar
There's more to being a guitar hero than pulling stupid faces and sticking out your tongue; you have to be pretty handy on the old six string. Unfortunately that takes years of dedication and tons of talent. So wouldn't it be great if you could play like a pro, jam with some rock gods and blow away your friends without all that fiddly string-plucking business?

The ingenious Power Tour Guitar lets you do exactly that and you won't even have to pick up a plectrum. That's because this pro-sounding electronic axe is touch-sensitive and brimming with hi-tech jiggery pokery that teaches wannabe rockers how to…well, how to rock!

Fully licensed by legendary plankmeisters Gibson, the stylish Power Tour is totally unputdownable. Why? Well for starters you won't have to learn any chords. Just follow the lights on the neck with one hand and 'strum' the sensor above the scratch plate with the other. It's so easy you'll be making a complete Slash out of yourself in no time.

With the Power Tour you can also play along to several preloaded classics, including Smoke on the Water and Wild Thing. But don't worry if you've got the musical talent of an X-Factor reject because this clever instrument features various difficulty levels plus a 'learn' mode that teaches songs in segments.

If you're thinking this is some novelty axe that sounds like a toy, think again. The Power Tour's built-in speaker emits a suitably crunchy kerrang and there are enough built-in effects to blow your wig off! You can also hook up to an amp or listen via headphones. As if all that were not enough, you can even plug in an MP3 player and rock out to your own tunes. Awesome! (That's muso-speak for brilliant).

Rock on with the white version!
As well as chords, the Power Tour allows you to bend notes and play hammer-ons, pull-offs and all the other fiddly-diddly stuff popularised by the likes of Van Halen and Hendrix. In fact the only thing this incredible axe can't do is teach you how to pull all the moves, shapes and stupid faces worthy of a true guitar legend. For those about to rock, we salute you! Kerraaaaang!





Baby Gift Ideas | 1 to 3 Year Olds | 4 to 8 Year Olds | 8 to 12 Year Olds | 12 to 14 Year Olds | 14 Years Plus